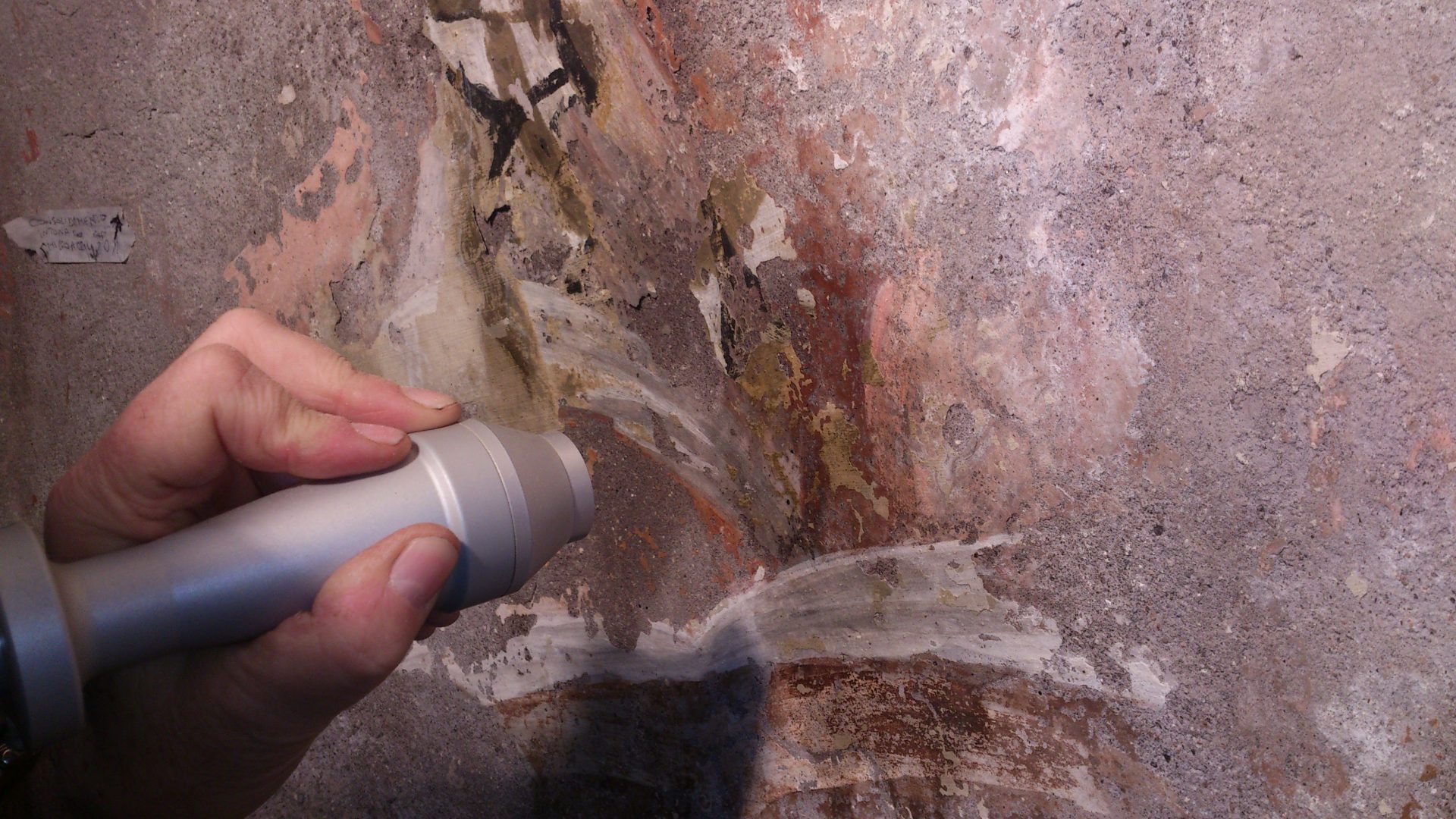 RESTORATION OF THE FRESCOES OF THE DOME OF THE CHURCH OF SAN COSTANZO, RONCIGLIONE (VT)
THE WORK
As part of the COBRA project (Conservation of Cultural Heritage through Radiation and Enabling Technologies) a restoration project was developed for the mural paintings of the church of San Costanzo in Ronciglione (VT), dating back to the 16th century.
THE PROBLEMS OF RESTORATION
On the dome of the church decorations of the 1800s were visible that hid other older ones. Years of neglect had produced various damage to the paintings that appeared in very bad conditions: it was possible to highlight two or three layers of paint, which lay on an extremely fragile substrate, in addition to a very complex degradation with the presence of efflorescence. Under these layers a fresco was visible with a glory of angels of very fine manufacture although very damaged and repainted.
THE LASER
To bring to light the original fresco and solve this critical situation, researchers and restorers have worked together to plan the most appropriate intervention. Laser technology was fundamental for the removal of the layers of paint applied to the original Mannerist fresco: the shock wave produced by the laser removed, point by point, the overlapping layers, slowly bringing the painting below back to light. The selection of the cleaning parameters was complicated by the extreme variability of the conditions of the layers to be removed but in the end, thanks to numerous optimization tests, the parameters suitable for each individual situation were identified. The cycle of frescoes dates back to around 1613-1615 and there are elements to believe that it is a work of the Cavalier d'Arpino workshop.
Client: Superintendence of Archeology, Fine Arts and Landscape for the Metropolitan Area of ​​Rome, the Province of Viterbo and Southern Etruria (SABAP RM-MET)
Restorers: Francesca Scirpa, Chiara Giuffrida, Fernanda Falcon
– V. Spizzichino et al "Laser-based tehcniques for a multidisciplinary action aimed at the restitutive restoration of S. Costanzo chirch in Ronciglione", Proceedings of the International Conference LACONA IX, Krakow, Poland, p. 253.