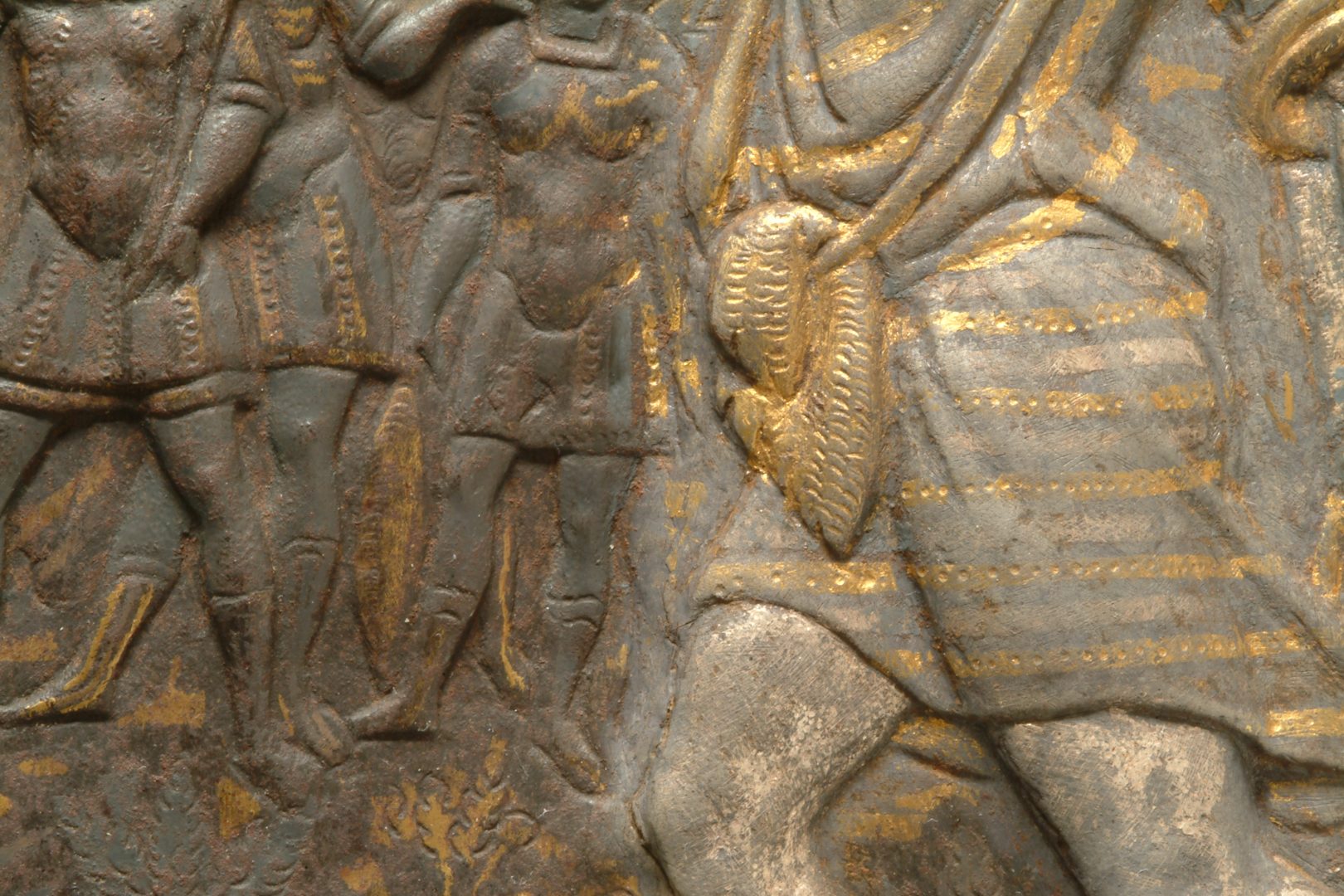 GILDED AND SILVERY IRON TILE "DAVID CHALLENGING GOLIATH"
THE WORK
The tile, produced by a workshop in Milan, dates back to the 16th century. It is in embossed and punched iron with gold and silver damasking. It measures 33 x 25 cm and belongs to the collection of gilded bronzes from the Stibbert Museum in Florence. The decorations are made of gold and pure silver and in gold-silver alloy.
THE PROBLEMS OF RESTORATION
 The surface of the tile presented a rather advanced state of degradation whose causes were closely related to the environment of exposure and human action. The surface showed a stratification of degradation products (hydrated oxides of iron and silver sulfide) mixed with residues of organic matter, now degraded, dating back to previous protective treatment. Conventional restoration techniques (piezoelectric ablation, microsandblasting, scalpels, solvents and chemical reagents, etc.) had proved ineffective for various reasons due to the type of artwork.
THE LASER
The laser cleaning has allowed the punctual and gradual removal of degraded products. A Q-Switched Nd: YAG laser was used with fluences between 0.8 – 1 J / cm2, values ​​for which the risk of superficial microfusion phenomena is avoided (verified through diagnostic investigations). In this regard, pure ethyl alcohol was applied as a wetting medium with a brush to protect the iron support, immediately followed by laser irradiation. The laser action was followed by a mild mechanical finish to remove the most tenacious iron oxide pustules.
Client: Stibbert Museum – Florence
Restorer: OPD, Elisa Pucci