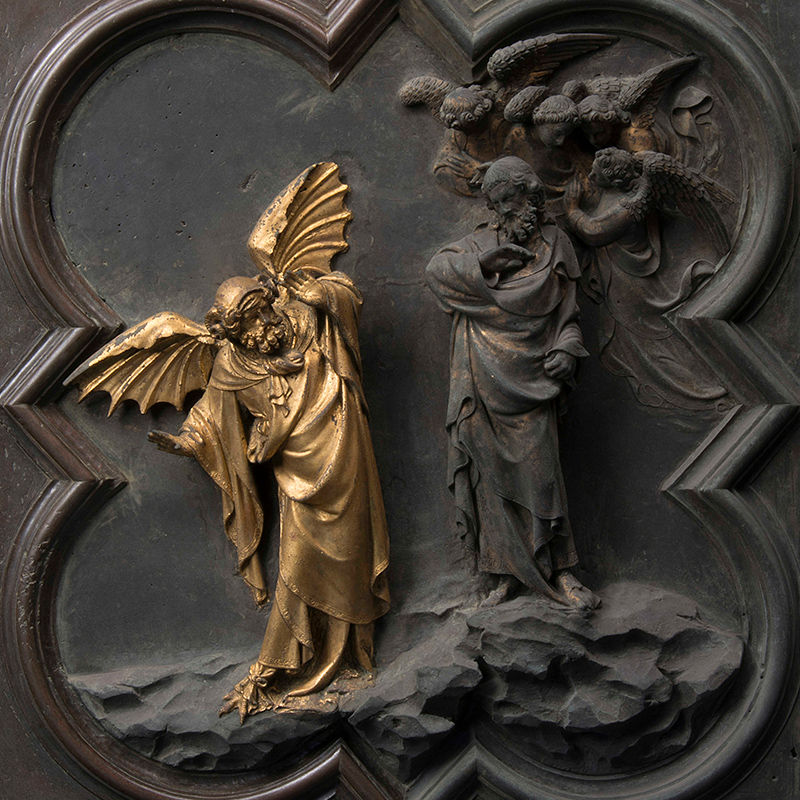 GATES OF PARADISE OF THE BAPTISTERY OF FLORENCE - LORENZO GHIBERTI
THE WORK
 The Gates of Paradise is the east door of the Baptistery of Florence, located in front of the Cathedral of Santa Maria del Fiore. Created by the goldsmith and sculptor Lorenzo Ghiberti between 1425 and 1452, it represents his masterpiece, as well as one of the most famous works of the Florentine Renaissance. The door is made of completely gilded bronze and was nicknamed "Gates of Paradise" by Michelangelo Buonarroti.
THE PROBLEMS OF RESTORATION
Before the restoration the golden surface was characterized by a distribution of microbubbles resulting from the crystallization of soluble salts under the gold film. The cleaning problem was initially tackled through an optimized chemical methodology applied to the individual panels after their dismantling from the bronze frame. The dismantling of the elements of the frieze appeared however too dangerous: for this reason alternative cleaning techniques were sought, including the use of the laser.
THE LASER
A laser with optimized pulse duration of 100ns (Long Q-Switching, EOS 1000 LQS system) was successfully used for frieze cleaning. The pulse duration, ad hoc optimized for this intervention, has avoided any side and undesired effects on the gilding that has been preserved in each area while allowing, at the same time, the complete removal of the superficial encrustation bringing back to light the brilliance of gold.
Client: Opera di Santa Maria del Fiore, Florence
Restorers: Opificio delle Pietre Dure, Annalena Brini, Stefania Agnoletti, Nicola Salvioli
– A. Giusti, Il Paradiso ritrovato: il restauro della Porta del Ghiberti, Mandragora, 2015
– S. Siano, R. Salimbeni, The Gate of Paradise: Physical Optimization of the Laser Cleaning Approach, Studies in Conservation, Vol. 46, n.4 2001 pp. 269-281.
– S. Siano et alii, Laser cleaning methodology for the preservation of the Porta del Paradiso by Lorenzo Ghiberti, JCH 4 2003, pp. 140–146.
– M. Matteini et alii, Laser and chemical cleaning tests for the conservation of the Porta del Paradiso by Lorenzo Ghiberti, JCH 4 2003, pp. 147–151.