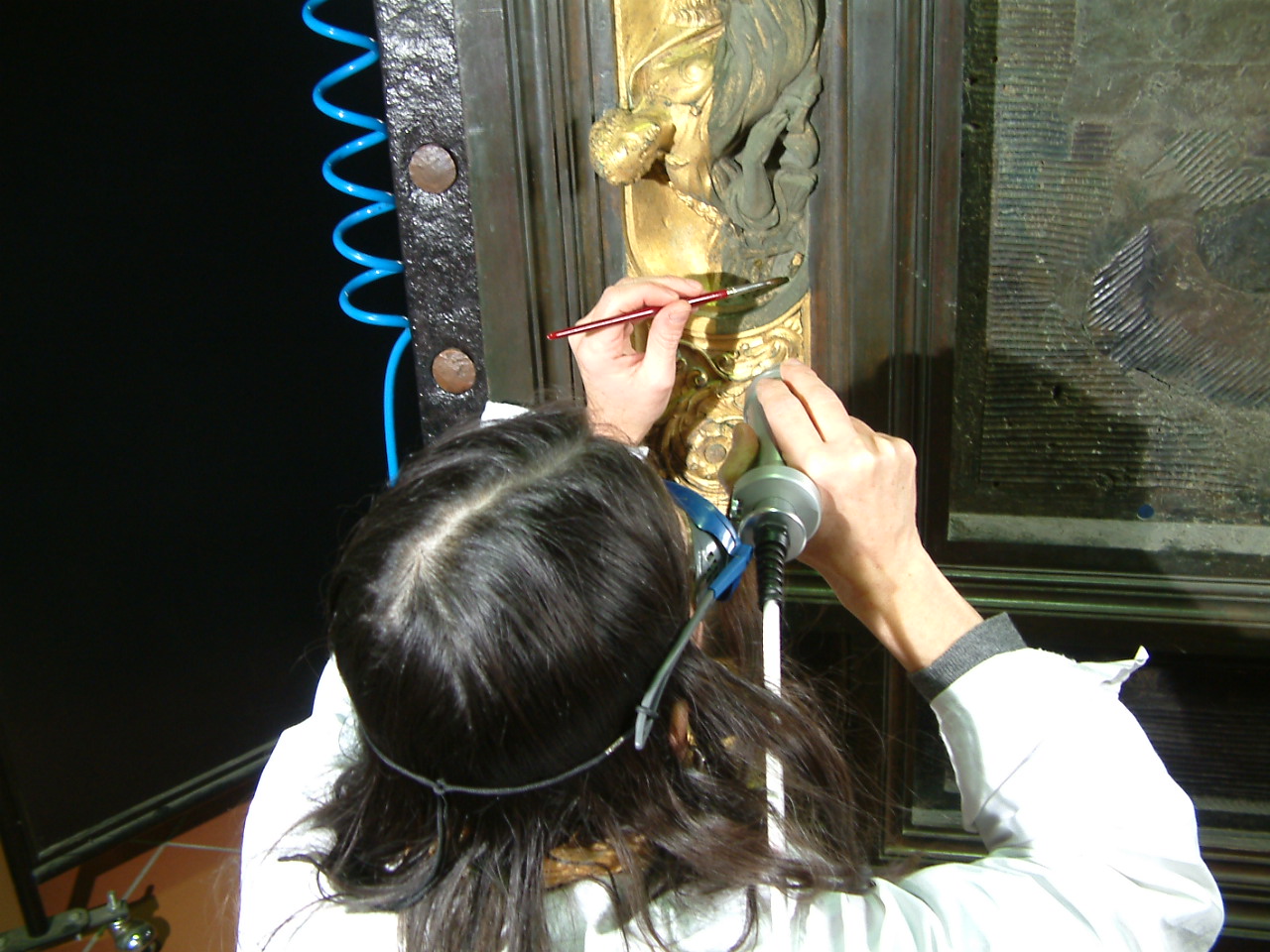 PORTA PARADISO DEL BATTISTERO DI FIRENZE – LORENZO GHIBERTI
L'OPERA
 La Porta del Paradiso è la porta est del Battistero di Firenze, davanti al Duomo di Santa Maria del Fiore. L'opera è stata realizzata dall'orefice e scultore Lorenzo Ghiberti tra il 1425 e il 1452  rappresentandone il capolavoro, nonché una delle opere più famose del Rinascimento fiorentino. La porta è formata da bronzo completamente dorato e fu soprannominata del Paradiso da Michelangelo Buonarroti.
LE PROBLEMATICHE DEL RESTAURO
Prima del restauro la superficie dorata era caratterizzata da una distribuzione di microbolle derivanti dalla cristallizzazione di sali solubili sotto la pellicola d'oro. Il problema della pulitura era stato inizialmente affrontato tramite una metodologia chimica ottimizzata applicata ai singoli pannelli dopo il loro smontaggio dalla cornice bronzea. La rimozione degli elementi del fregio era apparsa però troppo pericolosa: per questa ragione vennero cercate tecniche di pulitura alternative, fra cui l'utilizzo del laser.
IL LASER
Un laser con durata dell'impulso ottimizzata pari a 100ns (Long Q- Switching, sistema EOS 1000 LQS) venne utilizzato con successo per la pulitura del fregio. La durata dell'impulso ottimizzata ad hoc per questo intervento ha di fatto evitato ogni effetto collaterale ed indesiderato sulla doratura che è rimasta preservata in ogni zona permettendo, al contempo, la completa rimozione dell'incrostazione superficiale riportando alla luce la brillantezza dell'oro.
Committenza: Opera di Santa Maria del Fiore, Firenze
Restauratori: Opificio delle Pietre Dure, Annalena Brini, Stefania Agnoletti, Nicola Salvioli
– A. Giusti, Il Paradiso ritrovato: il restauro della Porta del Ghiberti, Mandragora, 2015.
– S. Siano, R. Salimbeni, The Gate of Paradise: Physical Optimization of the Laser Cleaning Approach, Studies in Conservation, Vol. 46, n.4 2001 pp 269-281.
– S. Siano. et alii, Laser cleaning methodology for the preservation of the Porta del Paradiso by Lorenzo Ghiberti, JCH 4 2003, pp. 140–146.
– M. Matteini et alii, Laser and chemical cleaning tests for the conservation of the Porta del Paradiso by Lorenzo Ghiberti, JCH 4 2003, pp. 147–151.