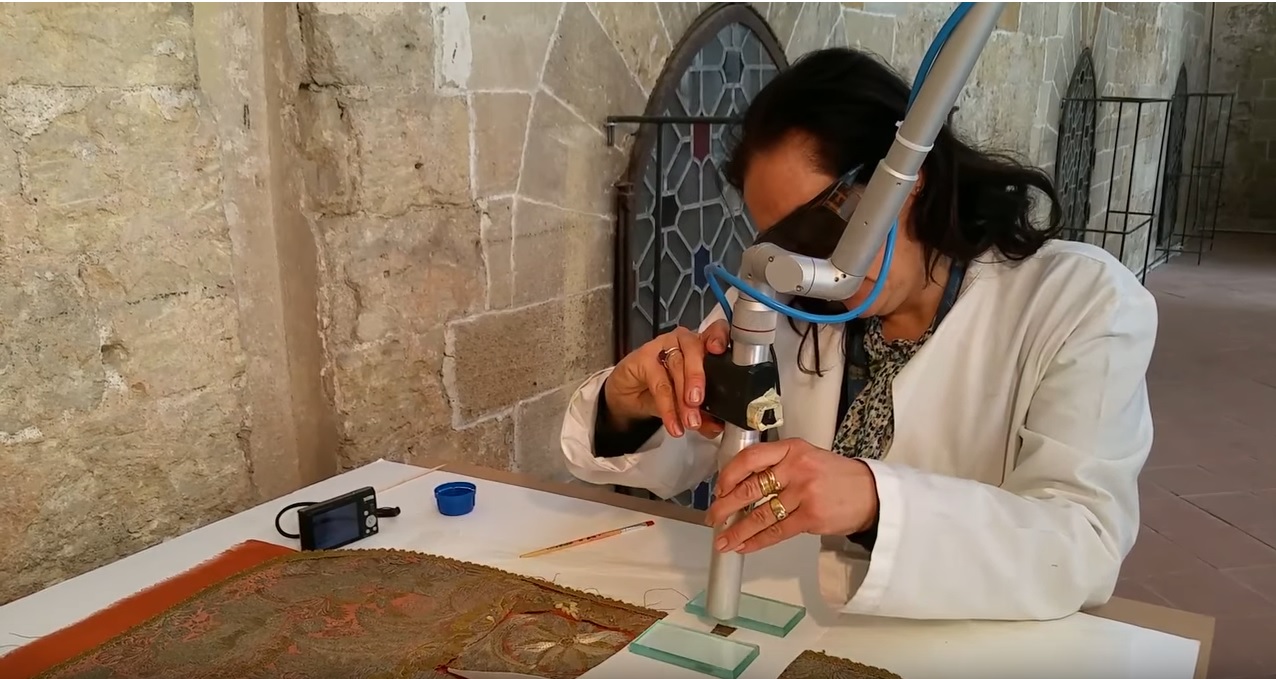 VESTMENT FROM THE PALATINE CHAPEL IN PALERMO
THE WORK
A liturgical garment in silk and metallic threads in silver and gilded silver dating back to 1700 and coming from the textile treasure of the Museum of the Palatine Chapel in Palermo was subjected to restoration as part of a thesis of the Degree Course in Conservation and Restoration of the Cultural Heritage of Palermo.
THE PROBLEMS OF RESTORATION
Given the fragility of the silk fabric on which the metal wires were woven, the traditional mechanical and chemical cleaning methods were not applicable as they could cause damage to the delicate, already compromised, silk surfaces. The absence of contact that characterizes the laser ablation allows a delicate action both on the oxidized metal yarns and on the silk fabric and therefore this technique was used to clean the planet.
THE LASER
 Laser cleaning was carried out with the Thunder Art system set in second harmonic at 532 nm (green light), in the most oxidized areas a frequency of about 0.3J / cm2 was used, which fell to 0.2 J / cm2 on less oxidized areas. In order to limit the problems of thermal dispersion, redeposition, opacification of the metal surface linked to the remelting of metal, the surface was moistened with deionized water during irradiation.
Restorers: Azzurra Milia, Lucia Nucci