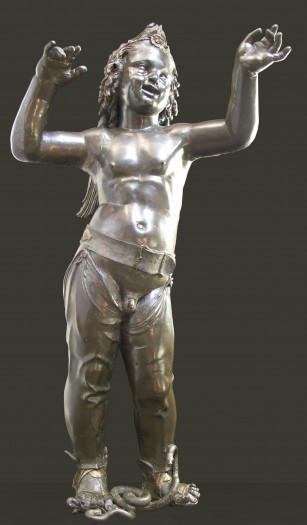 STATUE OF ATTIS – DONATELLO
THE WORK
Amore-Attis is a bronze sculpture by Donatello dating back to around 1440-1443. The work, which shows traces of the original gilding, measures 104 cm in height and is displayed in the Bargello Museum in Florence.
THE PROBLEMS OF RESTORATION
The structural interventions and the mechanical cleaning of the bronze surface, with the elimination of paints and waxes, was followed by the use of the laser. The laser allowed a total recovery of the gilding applied by the artist with the application of very thin gold leaf with an oleo-resinous glue. The delicacy of the gilding, given by the particular executive technique, did not allow in fact a risk-free cleaning with the traditional chemical and mechanical methods; laser ablation has therefore proved to be the only viable way that could ensure a greater degree of controllability to the operation.
THE LASER
Cleaning was performed with a laser system in Short Free Running mode. The laser was used with an operating fluence of 1.5-2 J / cm2 and low repetition frequency, 3Hz, so that an adequate control over the cleaning process was possible. The laser beam has brought to light the gilding still present in areas such as the string that surrounds the hair, the flower on the forehead, the belt, the laces that support the breeches and sandals, allowing us to appreciate one of the Donatellian masterpieces in a renewed splendor.
Client: Bargello National Museum – Florence
Restorers: Sveta Gennai, Fabio Burrini
– F. Burrini, S. Gennai, Il restauro Dell'attis Di Donatello, In Kermes La rivista del restauro 64, Ottobre-Dicembre 2006, Nardini Editore, Firenze.