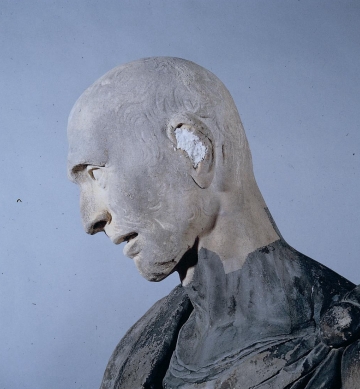 PROPHET ABACUC AND PROPHET GEREMIA - DONATELLO – FLORENCE
THE WORK
The two statues come from the niches of the third order of Giotto's Bell Tower, they were among the last to be carved between 1420 and 1435 and were originally intended for the north side, the least visible because it is near the cathedral wall. When the work was completed, the workers of the Duomo were so satisfied with the statues that placed them on the west side, the most important because parallel to the façade, moving to another location the older ones by Andrea Pisano and workshop. Both statues are in white marble and life size. The statues of the niches were transferred to the museum of the Opera del Duomo in 1937 and replaced on the outside by copies.
THE PROBLEMS OF RESTORATION
The statues were covered both with a layer of artificial black pigment and with black crusts. The coating had been applied in the past for protection and to simulate a bronze while the thick black crusts were mainly due to the prolonged exposure to atmospheric agents, when the statues were still in the niches of Giotto's Bell Tower. This thick coating had created problems of sulphation on the marble that led to the deterioration of the marble surface.
THE LASER
The two statues were cleaned almost completely using a Short Free Running laser that allowed the removal of thick black crust without affecting the surface of the marble. This case of black crust on white marble also showed the self-limiting power of laser cleaning as the laser action stopped as soon as the beam came into contact with the white surface, reflecting it.
Client: Opera di Santa Maria del Fiore, Firenze
Restorers: Opificio delle Pietre Dure: Isidoro Castello
– R. Salimbeni, Laser techniques for conservation of artworks, in Archeometriai, Muhely, 2006/1, pp. 34-40.