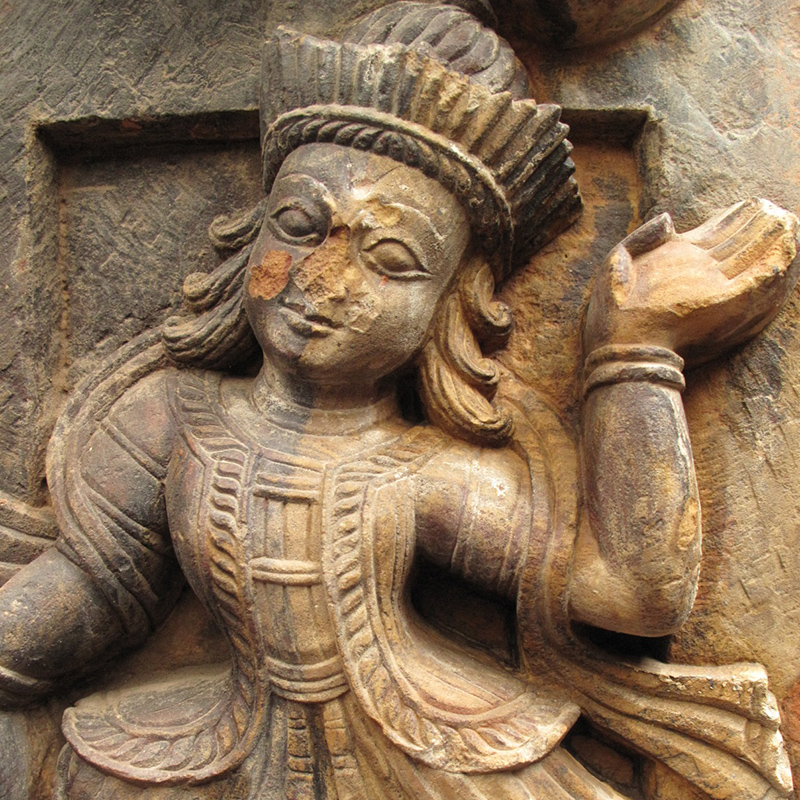 PORTALS OF THE ROYAL PALACE - PATAN – NEPAL
THE WORK
The Royal Palace of Patan, a UNESCO World Heritage Site, was built in the 17th century by King Siddhinarasimha Malla.
THE PROBLEMS OF RESTORATION
The restoration involved the removal of treatments applied in past conservation attempts that were deteriorating the sculpted surfaces. During the preliminary phase some scientific investigations were carried out for the petrographic characterization of the red stone of the north and south portals and for the analysis of the thick black layer that covered them, which turned out to be bitumen intentionally spread over the past decades as a conservative. During a previous intervention the use of solvents (acetone and white spirit) followed by a mechanical scalpel action were able to only partially remove this thick black layer. The use of the sandblaster, with which some cleaning tests have been performed, has been discarded due to the fragility of the stone and the consequent possible loss of material as well as for reasons related to the humid climate present in Nepal that would have affected the flow of sand from the nozzles.
THE LASER
The laser proved to be the most effective cleaning system for removing bitumen from the portal stone. Two different laser systems were used with different pulse durations and powers that allowed the complete removal of the thick black layer, without affecting the original surface.
Client: Kathmandu Valley Preservation Trust