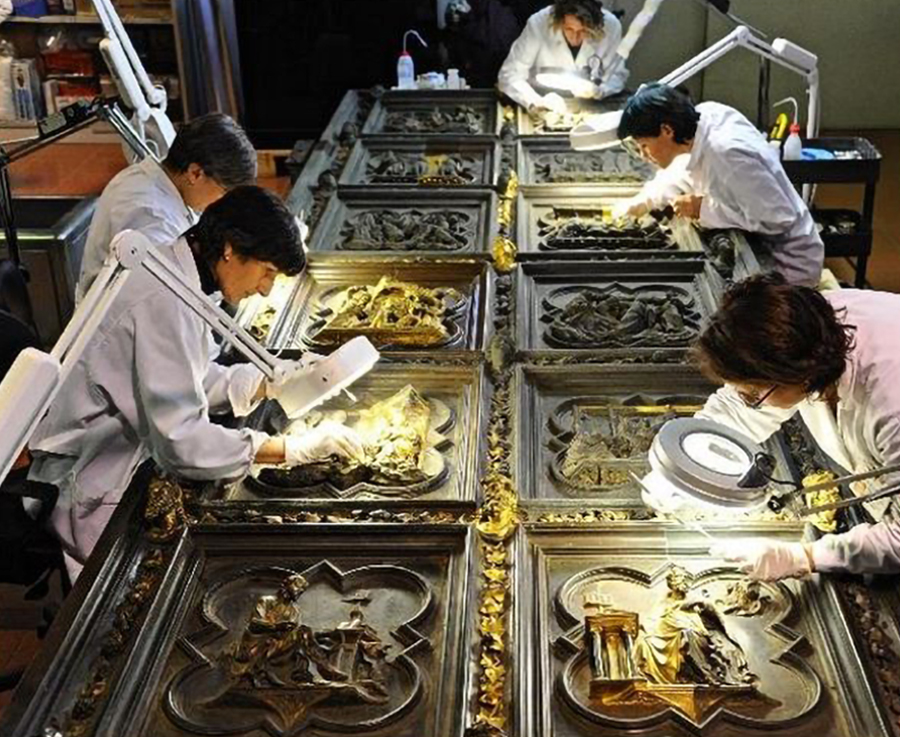 NORTH DOOR OF THE BAPTISTERY OF FLORENCE - LORENZO GHIBERTI
THE WORK
The work, formed by 8 carved panels with mixtilinear frame (quadrilobo), is the result of the famous competition of 1401, won by Ghiberti, to which 7 of the most famous sculptors of the time participated. In the more than twenty years (from 1403 to 1424) that Lorenzo and his workshop worked on this artwork, the style evolved from the Gothic of the first scenes to the Renaissance of the last ones.
THE PROBLEMS OF RESTORATION
 Restored for the first time in 600 years, the door was completely covered with incrustations and dark colored dirt. During the restoration it was discovered that the artist had gilded some parts of the doors. In this case, unlike the most famous Gates of Paradise, the gilding of the North door, obtained with an amalgam of mercury, was carried out only on the sculptural reliefs, leaving the bottom of the panels in bronze.
THE LASER
Strengthened by the experience gained in cleaning the frieze of the Gates of Paradise, the restorers immediately used the laser to clean the gilded parts. A laser with Long Q-switched pulse duration was used which allowed the punctual removal of the dark incrustation bringing to light the brilliant gilding of the sculptural reliefs. The cleaning was assisted by wetting with water spread with a brush.
Client: Opera di Santa Maria del Fiore, Firenze
Restorers: Opificio delle Pietre Dure