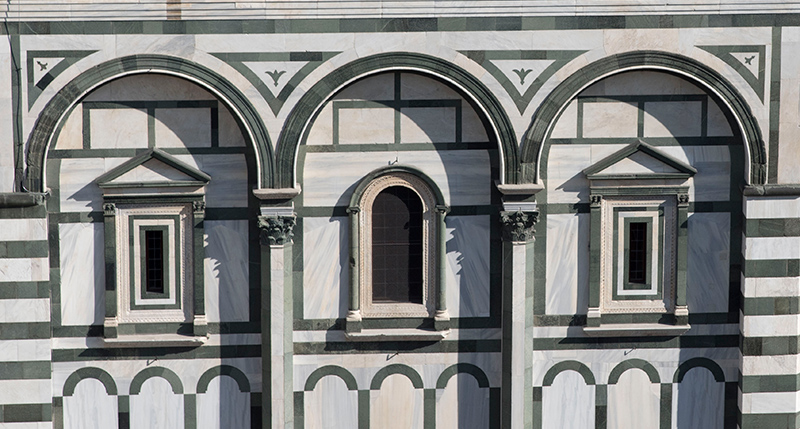 MARBLE FACADES OF THE BAPTISTERY OF SAN GIOVANNI – FLORENCE
THE WORK
The Baptistery of San Giovanni is one of the oldest churches in Florence, located in front of the Cathedral of the city, the church of Santa Maria del Fiore. With an octagonal plan, it is entirely covered with slabs of white and green Prato marble. The monument we see today is the result of the expansion of a primitive Baptistery, dating back to the 4th-5th century AD.
THE PROBLEMS OF RESTORATION
The restoration for the removal of degradations (black crusts, biological alteration, superficial deposits) involved all the facades of the Baptistery and the roofs up to the lantern and it was a particularly complex intervention also due to the heterogeneity of the materials used and to the different exposure to the atmospheric agents of the various areas. For cleaning, only demineralized water and ion exchange resins were used, as well as ammonium carbonate solutions in low percentages and anionic and non-ionic surfactants.
THE LASER
The use of laser technology proved to be essential on surfaces that were too damaged to tolerate conventional cleaning operations of chemical and mechanical nature, such as window frames. Even the capitals were cleaned with the laser which, thanks to the extreme precision and selectivity, allowed to preserve the patinas of time, speeding up, at the same time, the intervention.
Client: Opera di Santa Maria del Fiore
Restorer: Consorzio San Zanobi