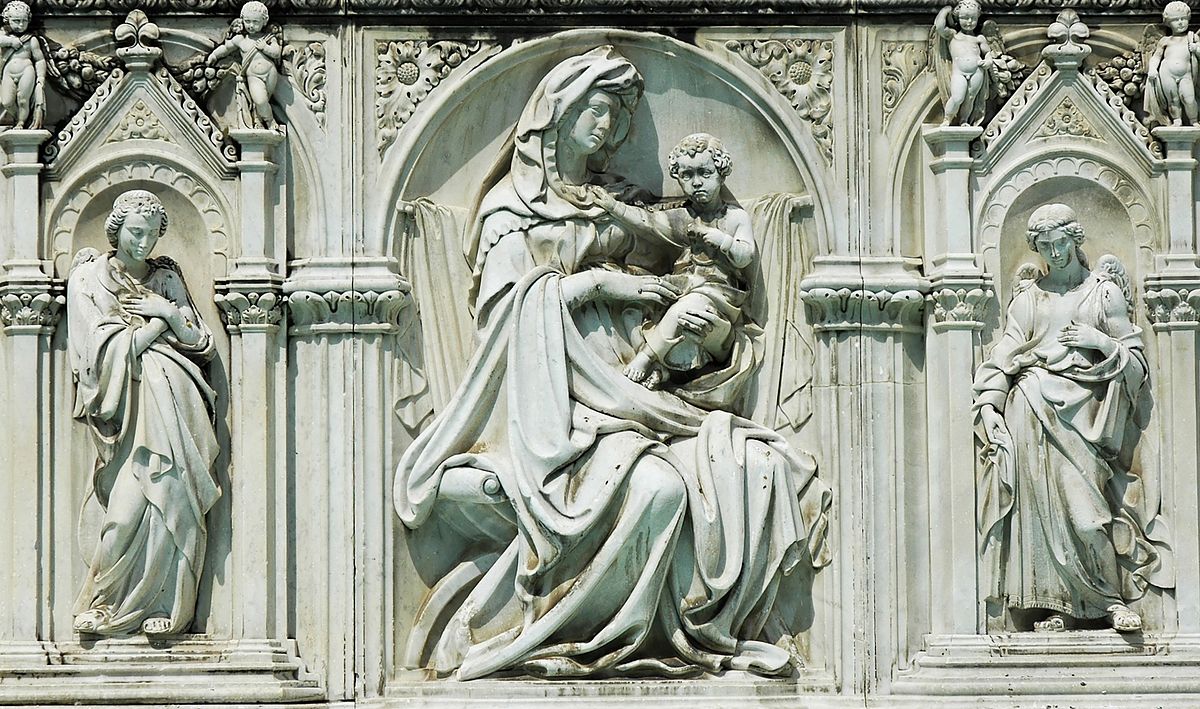 FONTE GAIA – JACOPO DELLA QUERCIA - SIENA
THE WORK
La Fonte Gaia was built from 1408 to 1419 by Jacopo della Quercia and placed in the central Piazza del Campo in Siena. It was decorated with the reliefs of the Madonna (protector of the city) and flanked by the Virtues, indispensable inspirers of Good Government.
THE PROBLEMS OF RESTORATION
The restoration intervention, started in 1989 and lasted for about twenty years, was necessary due to the advanced state of degradation of the fifteenth-century fountain, to be attributed primarily to the nature of the material used, the marble of the Sienese Montagnola, of calcareous composition and weaker than the traditional Carrara marble; secondly to the location of the work, displayed in an external environment; finally to damage caused by direct contact with the public. Some areas of the fountain surface showed gray superficial deposits and a yellowish calcium oxalate film.
THE LASER
For the cleaning phase it was decided to use laser technology alongside more traditional chemical and mechanical techniques. The laser cleaning allowed to preserve the polychromatic residues, gilding and fragile designs in addition to the calcium oxalate film, which were hidden by the stratifications of atmospheric deposits and that the preventive scientific analysis campaign had allowed to identify.
Client: Work of Santa Maria della Scala, Siena
Restorers: Stefano Landi – Daniela Manna –  Anne-Katrin Potthoff
 – S. Dei, E. Toti, La Fonte Gaia di Jacopo della Quercia. Storia e restauro di un capolavoro dell'arte senese, Ed. Polistampa, Firenze 2011.
– S. Landi et alii,  Intervento di restauro sulla Fonte Gaia di Jacopo della Quercia. Complesso Museale di Santa Maria della Scala, Siena, Atti APLAR 2,  Siena 4 luglio 2008, A cura di Brunetto A., Ed. Il Prato, 2009, pp 15-26.