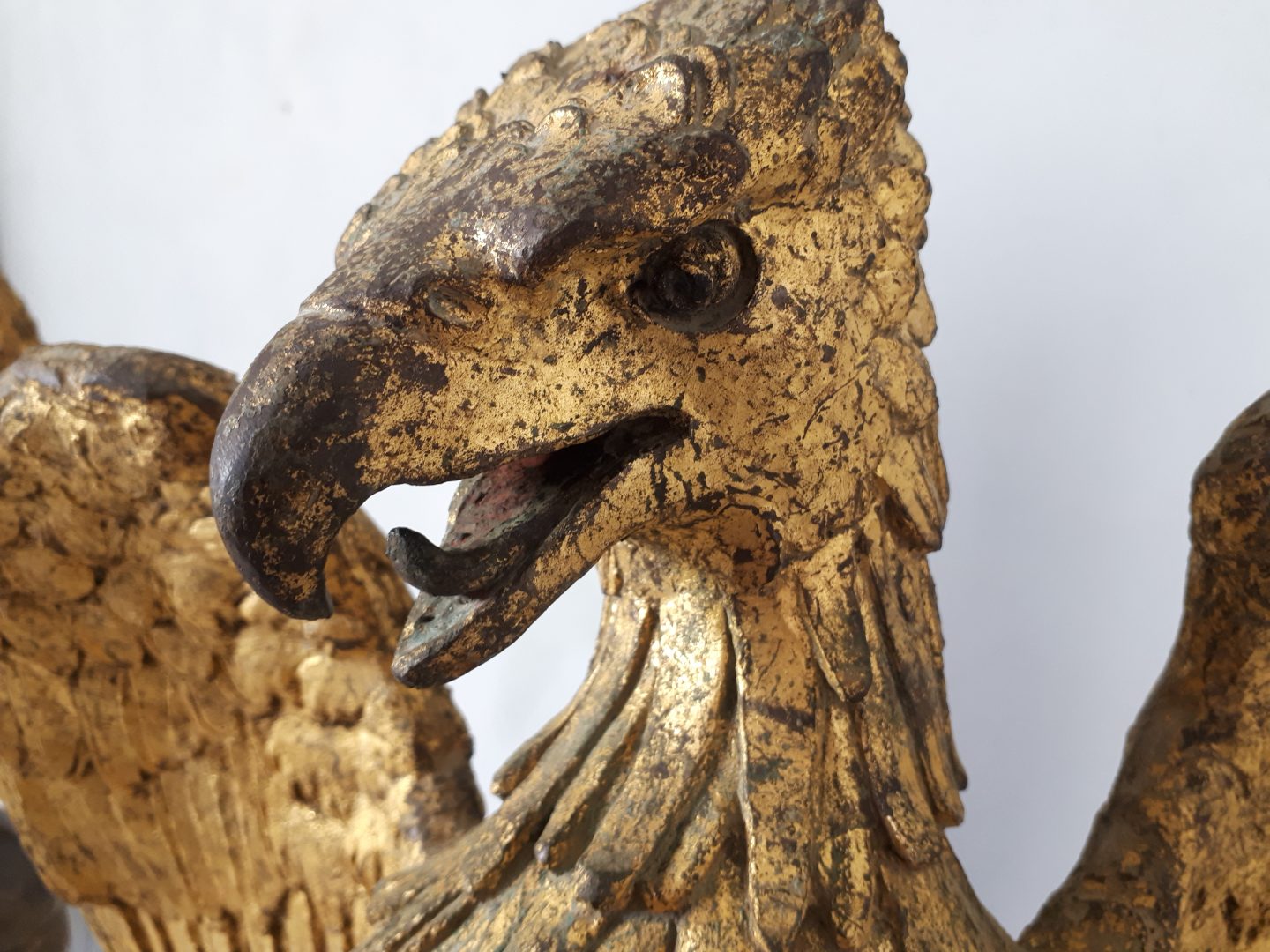 EAGLES IN GILDED BRONZE FROM THE CIBORIUM OF THE ABBEY
OF SAN MINIATO AL MONTE, FLORENCE
THE WORK
The two bronze eagles that hold the cloth twine between the claws, represent the emblem of the Art of Calimala. They were commissioned to Maso di Bartolomeo in 1448 by Piero di Cosimo de Medici to be placed above the vault of the shrine chapel of the Crucifix, one towards the apse and one towards the counter-façade, where they are still located.
THE PROBLEMS OF RESTORATION
 Thanks to their placement indoors and in the absence of previous restorations, they represent a rare example of the partially polychrome "bronzing" from the 1400s. They almost entirely still show the thin coating of pure gold leaf, the red tongues, the eyes and claws painted in black and the legs in azurite blue, as well as traces of silver on the cloth. At the beginning of the intervention, the two artworks were covered with a thick layer of dust, largely incorporated in one or two layers of wax, applied over time during small maintenance operations with the aim of reviving their appearance and shine. The wax and dust had formed a thick and hard layer of deposit which, activated by moisture, became concreted to bronze, corroding it until it lost part of the gilding. Corrosions, even important ones, were present on the paws and on the cloth under the tail.
THE LASER
The cleaning of the gilding, was entirely carried out by means of laser ablation, using a Nd: Yag source with a Long Q-switched pulse, diversifying the energy necessary for the various surface peculiarities. The legs and claws were treated with aqueous solutions thickened with rigid Agar gels, alternating washings with mild solvents. For the cloth, it was necessary to intervene with both laser and Agar gel, and then finish with a delicate mechanical scalpel cleaning.
Client: MiBACT, Intervention funded by Friends of Florence
Restorer: Nicola Salvioli