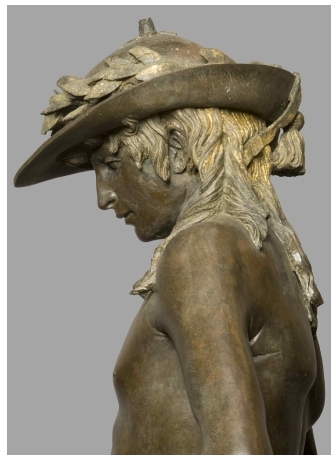 THE WORK
The bronze statue of David, created by Donatello probably for the courtyard of Palazzo Medici, is very controversial: the most widespread dating is however the one that places it among the works of the fifties of the fifteenth century.
THE PROBLEMS OF RESTORATION
The David had received very few restoration interventions except for routine maintenance operations which had created various layers on the bronze surface, overlapping the numerous dark coatings that had been applied to the work during the eighteenth and nineteenth centuries, according to the uses and tastes of the time. The importance of the work, the delicacy of its modeling and the probable presence of gilded parts, of which only faint traces were identified, had always advised against a thorough cleaning and restoration, due to the absence of adequate diagnostic, technical and operational tools that guarantee the result.
THE LASER
The laser had already been successfully used previously on gilded bronzes such as the Porta del Paradiso and the Attis by Donatello and therefore, also for this intervention, it was decided to combine the mechanical cleaning performed with scalpel and microscope with the use of a special laser constantly calibrated for the parts treated with 'mission' gilding, ie with glue and gold leaf, particularly fragile. The laser used has a Short Free Running pulse duration.
Client: Bargello National Museum – Opificio delle Pietre Dure – Florence
Restorer: Maria Ludovica Nicolai